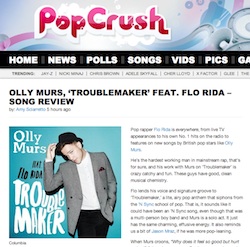 I reviewed Olly Murs' new track 'Troublemaker.'
When Murs croons, "Why does it feel so good but hurt so bad?," there is no answer. But it sure sounds good when he asks it. That's a philosophical question in life that can never be answered when it comes to love, but we love when pop stars explore that notion in a song.
Read the rest of my review of the new Olly Murs' track 'Troublemaker' over at PopCrush.