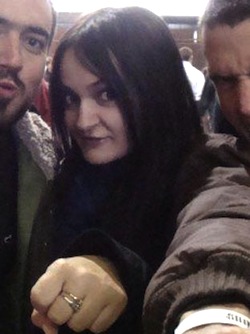 Amy Sciarretto is a 15-year veteran of the rock music scene and industry and is easily one of the most prolific females in the music journalism scene who was recently profiled in the national trade mag Radio & Records where she was dubbed "The Queen of Metal." She's a highly respected international rock journalist and bio writer who got her start when she was still in high school. She created columns (and wrote them for 5 years) when Revolver relaunched in 2001. She has written cover stories for international rock Bible Kerrang!, and through the years, her words have continuously appeared in the pages of Alternative Press, AOL Noisecreep, AOL Spinner, Guitar World, Decibel, Hit Parader (which she still co-edits), CMJ New Music Report (where she served as Loud Rock Editor for 8 years, in-house and freelance, taking the column for one page and one chart to five pages and five charts), Teen People, Spin.com, VH1.com, CMJ New Music Monthly, FMQB, Chord, Sucker , Outburn, Amp, Hails & Horns, Ruin, Metal Maniacs, Aquarian Weekly, Rockpile, ARTISTdirect, Ultimate Guitar, Rebel Ink, Urban Ink and LAX, to name a select few. She is also the entertainment/gossip news columnist is ARTISTdirect.com.
Amy and her good friend and writing partner released their book, Do the Devil's Work For Him: How to Make it in the Music Business (And Stay in it), through McCarren publishing last June. The book received heaps of critical praise from a variety of sources, from Music Connection to No Good TV. It's a pocket guide to getting your foot in the door and ideas for Volume 2 are already being kicked around!
She was a weekend DJ on Sirius Satellite Radio's 24/7 metal channel Hard Attack for 2 years, hosting two radio shows per weekend. A consummate multi-tasker, she also served as Roadrunner's Director of Hard Rock Radio and Video Promotion, where she was voted "Promotion Executive of the Year" for the format for five years in a row, before the award was retired when she left the format. She worked in promotion for six years before being promoted to Director of Publicity/Media/Artist Relations in 2007, proving her versatility working both sides of the field. She has been running the publicity department at Roadrunner, home to Nickelback, Slipknot, Theory of a Deadman, Killswitch Engage, Korn, RATT, Stone Sour, Meat Loaf and many, many others, since February 2010.
Amy also expanded beyond rock music journalism into the mainstream women's journalism field, writing cosmetic and product-based stories for the hugely popular blog, beautynewsnyc.com where she has been Beauty Editor for three years, as well as writing about Fashion and Beauty trends as the Fashion/Beauty editor of the recently launched LAX Magazine. She also writes about tattooed pop culture phenoms in both Urban Ink, which focuses on artists of color, as well as its sister magazine, Rebel Ink, which leans to rock 'n' roll type artists. Both magazines are found in almost every supermarket in America. She does cover stories and feature profiles.
She has also guested on and co-hosted countless radio platforms throughout the past decade and has been covering film and movies for a variety of the aforementioned publications for the past year. She is also a the lead daily blogger on AOL's year-old Noisecreep blog, where millions of eyes read her pieces. She was also crucial in the blog's launch and development and also assists the Editor-in-Chief with copy editing, scheduling and asset collection.
Amy has interviewed every icon in rock music – from members of Pearl Jam to Panetra- and has covered hip-hop superstars like T.I. and Flo Rida. She has also interviewed a variety of actors, ranging from Nicolas Cage to Leonardo DiCaprio to Adrien Brody.
While she has published fiction and poetry in local magazines in her native New Jersey, she also helped launched a literary magazine in college, The Iconoclast. In addition to writing, she has attended approximately 2,000 concerts in her lifetime, loves to travel, especially to California, and to see the planet, to drink Green Tea lattes, is a huge Philadelphia sports fan and just purchased her first property.