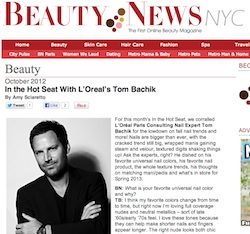 I interviewed L'Oréal Paris Consulting Nail Expert Tom Bachik.
N: What are some of your predictions for spring trends?
TB: Spring brings a newness and fresh approach. We are more active and nails will get shorter to accommodate. Expect nails to stay soft and rounded in shape, and colors will be a balanced mix of softs and brights living in harmony with neutral tones and metallics.
Read the rest of my interview with Tom Bachik over at Beauty News NYC.