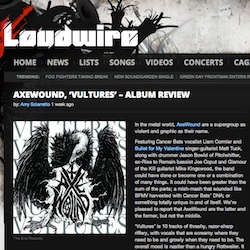 I reviewed the 'Vultures' from AxeWound.
'Vultures' is 10 tracks of thrashy, razor-sharp riffery, with vocals that are screamy where they need to be and growly when they need to be. The overall mood is nastier than a hungry Rottweiler. It doesn't straddle any lines or flounder in the middle of the road.
Read the rest of my review over at LoudWire.