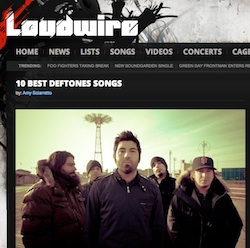 Check out my latest feature, the 10 Best Deftones songs.
Choosing the 10 Best Deftones Songs was difficult, since they have an extensive body of work. Our list is heavy on 'Around the Fur' and 'White Pony' songs, as those albums truly represent the band's artistic and commercial pinnacle. Since the Sacramento band has been active since the early '90s, choosing 10 songs was a task that was muy difficile.
Read the rest of my 10 Best Deftones Songs feature over at Loudwire.